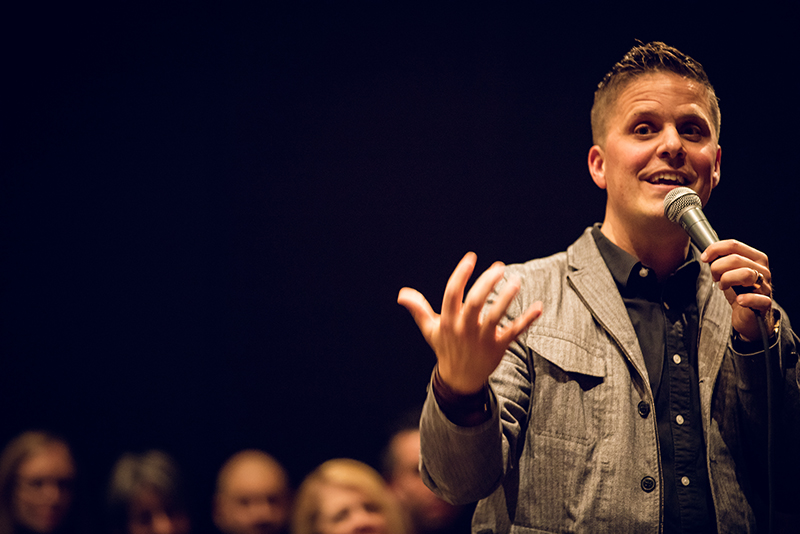 Aaron Niequist
Aaron Niequist remembers the time years ago when he was struggling to find God's fingerprint in his life. He was going through what he called a heavy season of life and feeling spiritually empty. Having been raised in a conservative, Protestant home, he was struggling with the tension and division surrounding the practiced-based faith he was taught and the modern Church and evangelical community he was aligning with.
After calling a mentor, he was encouraged to seek guidance from three people – a therapist, a professional mentor, and a spiritual director. He had the first two, but had no idea what a spiritual director was or where to find one.
Finding Bellarmine
That is when a friend stepped in and recommended Fr. Michael Sparough, SJ of Bellarmine Jesuit Retreat House.
"Thankfully, my friend said, 'Hey have you ever met Fr. Michael, he's an artist, Godly man and a wonderful spiritual director.' I jumped in my car and drove to the Jesuit retreat house not knowing what to expect and we began our conversation."
The encounter was "profoundly life-changing," says Aaron who grew up in Algonquin. "I remember asking myself, 'What is a Willow Creek employee doing heading to a Jesuit center?'"
Aaron signed up for spiritual direction with Fr. Sparough and attended his first retreat at Bellarmine. "I was immediately drawn to Bellarmine and thought from the get-go, 'This is a holy place.' I loved the feel of church that Bellarmine exuded. It was quite palatable. Bellarmine was not trying to be cool and that was so attractive to me. I knew immediately that this is a community I want to learn from."
Ecumenical Connections
Fast-forward more than five years, and Aaron and Fr. Sparough have formed a special friendship and partnership spending many hours discussing their faiths – one a Catholic priest, the other an evangelical minister. They've expanded their candid dialogues to extend to community members to whom Aaron was ministering.
Fr. Sparough has guided a group Aaron organized, The Practice community, through the historic Christian practice of The Examen. The community was made up of faith seekers from all walks of life, from empty-nesters to college students and parents of young families who met regularly on Sunday nights.
The night Fr. Sparough presented the Examen was powerful and "so unexplainably holy" that they turned the live recording of Fr. Michael into a full New Liturgy — fleshing it out with an evocative musical score and three original songs. The hope is that the collaborative liturgy project between the duo helps people connect with God in a deep and daily way.
By adopting new spiritual practices, Aaron learned through Fr. Sparough and Bellarmine that it's possible to learn to swim spiritually again with a renewed sense of vigor and a more divine purpose.
Writing a Book & Beyond
The impact of their partnership and Aaron's spiritual growth has been birthed in his book, The Eternal Current: How a Practice-Based Faith Can Save Us From Drowning. It discusses loving your traditions while still following the call to something deeper.
These days, Aaron is on to his next spiritual adventure studying for his master's at General Seminary, an Episcopal seminary in the Chelsea neighborhood of New York City. His goal is to continue to grow in ministry and create communal experiences to help others grow in their faith too.
"These days I'm in a learning season of my life," he says about the two-year graduate program in which he is currently enrolled. "I'm studying. I just wrote a book, and it is all very exciting to see where the next place this takes me and my family."