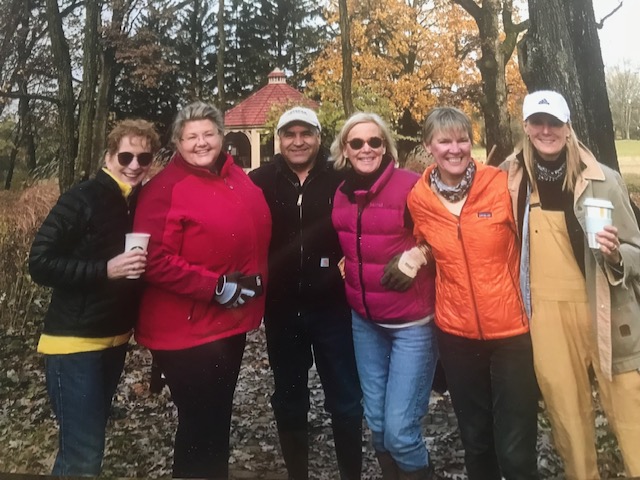 Barbara Welsh Reed
Growing up in Barrington, Barbara Welsh Reed often wondered what must lie beyond the stately, slightly mysterious stone entrance to Bellarmine. When she came back to Barrington years later with her husband, Glenn, and growing family, they settled into a home less than two miles from Bellarmine.
But it was still a bit of a mystery.
A longtime friend and devoted Bellarmine retreatant began inviting Barbara to join her group for a three-day, silent mid-week annual retreat. After an initial reaction of, "You've got to be joking—three days away from three young daughters and silence?" she reluctantly said "yes" some ten years later.
Three Days of Silence
"I wondered what I had gotten myself into, everything felt so foreign," she says. "But I was so moved by these women and the retreat leader who, clearly, shared such a deeply committed spiritual life."
Shockingly, the silence was wonderful and throughout the three days Barbara wandered Bellarmine's 80 acres rediscovering a relationship with God that "I really didn't even know I had been hungering for."
"It felt like being whisked away into an entirely different world, yet I was within five minutes of our home," she says. "As the retreat ended, I knew I needed to find a way to return and to return often."
A few years later, after returning for retreats whenever possible, Barbara became a Master Gardener through the U of I Extension Master Gardening program at the Chicago Botanic Garden.
"Somewhat like my initial retreat experience, I felt a bit dragged into it (by gardener pals shown above) but learned so much and wanted to continue to expand upon my newfound knowledge," she says.
Volunteering in the Gardens
Post-grad master gardeners are required to volunteer 60 hours per year. Thanks to (now Bellarmine Executive Director ) Erin Maiorca's enthusiasm for the possibility of more hands tending the expansive Bellarmine gardens, Barbara was able to get sanctioning for Bellarmine to become an official Chicago Botanic Garden project.
"Our merry band of Master Gardener grads began spending time together at Bellarmine and soon we were dubbed, 'Gardening Angels," she says.
While weeding, trimming, transplanting, and sharing a passion for gardening, the group realized that they were also following in the footsteps of so many who had tended the sacred grounds of Bellarmine before them.
"Sometimes all together in deep weeding and conversation, sometimes in solitary moments of pruning the roses, we find great peace and feel so privileged to spend time growing the beauty of the grounds and our souls," she says.
Creating Suzi's Memorial Garden
In 2016, tending to the Bellarmine gardens became especially meaningful with the loss of Barbara's close friend, Suzi Hanson Palumbo. Suzi was an incredibly prolific and talented artist who left her mark on everything from book illustrations to enduring murals to be found at Barrington Hills Country Club, The District 220 Early Learning Center, and the Bultasa Temple in Chicago. As her illness progressed, Suzi began hatching the idea of a native garden on the Bellarmine grounds that would be a sanctuary for her beloved birds and butterflies with Barbara and her treasured friend, Fr. Michael Sparough, SJ. The generosity of family and friends helped to make Suzi's dream come to life with a garden that now draws not only wildlife but also retreatants seeking peace and quiet reflection.
Unexpected Gifts
"Bellarmine has brought so many unexpected gifts to my life," she says. "Last Mother's Day all three of my daughters joined me on retreat, and I am so fortunate to embrace the beautiful Bellarmine staff as family. There is a gentle but relentless beckoning at Bellarmine that calls us to come a little closer and stay a little while longer." says Barbara. "The beauty here is beyond my ability to express. Now, when I'm trying to express something spiritual that I want to share with them, my family is likely to respond, 'Oh mom, that's so Bellarmine!' and I'm good with that."