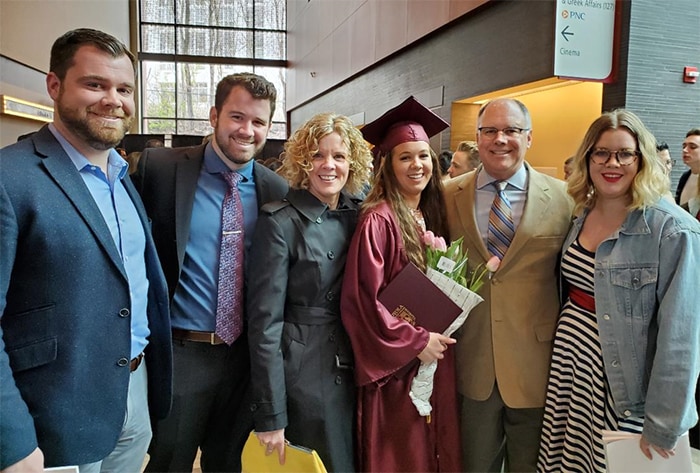 Nancy Hulsebosch
An active volunteer and supporter of her four children's Catholic schools and parish community, Nancy Hulsebosch was praying for God's insights on her "next."
With three of her children in college and her youngest daughter poised to embark soon on the same path, the Palatine, IL mom was looking at the separation not as a moment, but one more step on the path of parenting. As her children moved toward this new milestone of independence and transitioned to adulthood, Nancy was reexamining her fundamental view of herself and where she was called beyond her full-time role as "mom."
Having participated in her parish, St. Thomas of Villanova's Christ Renews His Parish (CRHP) retreat, and in the years following as a leader helping others through the experience, going on retreat tugged at her heart. Given her experience as a graduate of a Jesuit school, Marquette University, she believed retreats could be the place that would hold her angst and help her discern a fresh direction. She says she had a vague awareness of Bellarmine Jesuit Retreat House in Barrington Hills as the place her dad went to in the 1960s when she was a kid. When some fellow parishioners mentioned it again, she thought, "Why not try it?"
God is a God of Surprises
That's when she recruited her sister to accompany her on a weekend retreat at Bellarmine Jesuit Retreat House.
Nancy was poised and determined to be patient as she embarked on what she thought would be months of spending time in prayerful silence, focusing on her relationship with God and trying to figure out where God was calling her.
But she quickly learned that God is a God of surprises.
Turning off Lake Cook Road and pulling into the winding driveway on a pretty spring day, the spacious grounds of Bellarmine Jesuit Retreat House immediately called to her.
"I remember being in awe and laughing as I said to my sister 'I want to work here,'" says Nancy.
For the next two days she focused on her prayer in silence. During the closing of the retreat, Bellarmine's Executive Director announced a spiritual direction internship for the next fall and asked if anyone was interested. If so, they should head to the library for an informational meeting.
Nancy Stayed Planted
"I kept thinking that I wasn't deserving of that and didn't have a chance," says Nancy. But she remembered a similar calling during her CRHP retreat and a similar doubt right before she became the leader of her CRHP team. At the same time, her sister whispered to her, "You're going to that meeting."
She hesitantly walked over to the library.
Fast forward eight years. Today, Nancy is a spiritual director who practices at Bellarmine and at her parish, a role that fits perfectly into her lifestyle now that her children, Kevin, 29, Patrick and Clare, 25, and Bridget, 23, are pursuing their own careers.
Pursuing the Call
"It turned out to be a great balance for my life with flexibility, and it's challenging and uplifting," says Nancy, who studied finance in college and never expected this path for her life. "The people are so inspiring, and I am so honored that they trust me with their personal faith journeys. I am very humbled to see how God works in their lives."
These days, she says every time she turns onto the Bellarmine grounds, she is immersed in the serenity and knowing she discovered on her first retreat at Bellarmine.
"It's this treasure hidden in the midst of our everyday lives, but when you drive in you feel like you are at a sanctuary," says Nancy. "The peace and silence remove you from the worries of the world and let you connect closer to God."