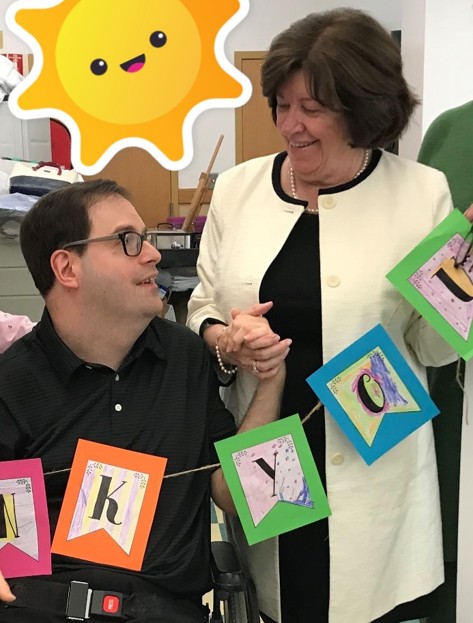 Maureen Kennedy Barney
As the oldest of six growing up in an Irish Catholic family on the East Coast, Maureen Kennedy Barney's faith has influenced her life since the day she was baptized.
At bedtime every evening, she would join her siblings to kneel before the Blessed Mother statue perched at the top of the stairs, saying their prayers and giving thanks for the day's blessings. She attended Catholic schools and prayed before every meal and silently through the day when needed. Sundays were for Mass, and volunteering to serve "the poor" was the backbone of the family's moral code.
How God cares for us and how we are called to care for others are themes that inspired Maureen's personal and professional life for the next six decades.
She graduated from Boston College, directed admissions for Seton Hall University, married her husband Dan and, 10 years ago, mourned his passing. She taught AP English for high school students and volunteered at the Career Transitions Center of Chicago. She is an Ignatian Volunteer Corps member, one of 65 men and women in Chicago who are dedicated to serving the marginalized in society. Through that role, she has spent the last five years leading the Trinity Volunteer Corps, an Ignatian non-profit volunteer site that brings adults with disabilities together through volunteerism to express their unique talents and gifts. The organization is one of numerous Outreach ministries at Old St. Patrick's Church in Chicago.
A daily Mass attendee, Maureen has always striven to live St Ignatius' belief of finding God everywhere... in all things.
Bellarmine opened her to new surprises
It was her experience attending a three-day silent retreat at Bellarmine Jesuit Retreat House that clarified her purpose at this juncture in her life.
There, about five years ago, she found a place where God's call to her was palpable. She felt closer to God than ever before and clues to the ways the world was calling her to serve became intensified in this Bellarmine environment of quiet, of prayer, of Jesuits and lay leaders who were there to journey with her.
"At Bellarmine, I realized that God calls you to do different things so many times in your life," says Maureen. "I never thought that I'd find myself in my seventies, retired, my husband suddenly gone, life different than I thought it would be and yet firmly believing that God had a purpose for me, a new path to follow and ways to continue to serve. I came to Bellarmine looking for answers and open to hearing God's voice. I discovered in the quiet that there are so many ways God keeps wanting to use us to do good. My retreat experience helped me open up to the unexpected, to what I was being called to next."
The silence and the kind wisdom of the retreat leaders at Bellarmine were unique from any of her previous experiences, she says. "There was just such a heartfelt connection that allowed me to listen to God."
Since then, Maureen has attended five or six silent weekend retreats at Bellarmine and three days a week attends mid-day Mass there when not at her volunteer site.
"Bellarmine brought such an awareness and calm," says Maureen. "It gave me a place to reflect, to look back on my life, to really understand what things I needed to act on, how to see Christ in the stranger, how to serve with gratitude. Bellarmine offered, and continues to offer, a special space to encounter God in my daily living."
These days, Maureen says her ministry is directly tied to the Ignatian concept of being "men and women for others" that was and continues to be reinforced for through her ongoing experiences at Bellarmine.
"Bellarmine helped me to clarify my purpose in the stillness," says Maureen.
Doing for Others
Her ministry today is a direct result of listening to the answers she found at Bellarmine. It is inspired by Jesus' call to welcome all to the table and promote a community that welcomes and honors all. She points to the message in Luke's Gospel to "invite the poor, the crippled, the lame, the blind and those with no ability to repay you."
At Old St. Patrick's the group finds purpose, a belonging, in all their work of helping others... everything from folding the weekly worship aids and assembling cheer bags for shut-ins, to greeting Mass-goers at Old St. Pat's, assisting at special events, serving meals at the Ronald McDonald Houses, preparing weekly food bags for the homeless who find their daily sustenance at Old St Pat's, and much more.
And the example and message from Fr. Tom Hurley, pastor of Old St Patrick's, is one that Maureen says inspires her, resonates deeply with her, and encourages her daily: "Sometimes all God asks of us is to be present in another's life, simply to be present."
Maureen says she sees clearly the Ignatian themes that were present in her life all along, including the family's nightly prayers to the Blessed Mother which so closely mirrored The Daily Examen of reflecting on the events of the day in order to detect God's presence and discern God's direction.
"I feel blessed that what I've found at Bellarmine has allowed me to understand more clearly that I need to listen patiently for God's voice and then accept the grace he sends to do all I can to serve others."