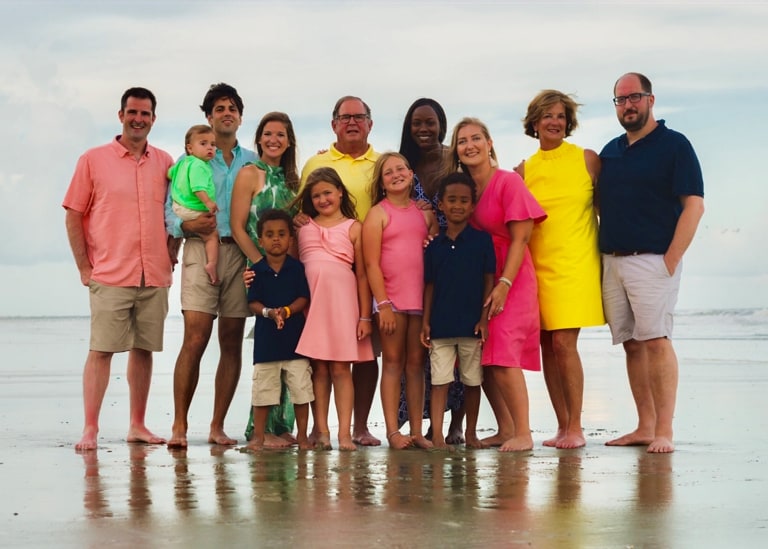 James "Jim" Dahl
When Winnetka attorney Jim Dahl was invited to a weekend silent retreat, his first reaction was: "I could never do that!" Jim thought: "I couldn't keep quiet for five minutes!"
His family, friends, and colleagues agreed.
Despite his reluctance and his buddy's mandate: "You're (bleep) coming to this retreat, so get your (bleep) over there," Jim picked up something deeper in his friend that lured him in. "There was something in his voice that he had, and I wanted it."
That was in the late 1990s. More than 20 years later, Jim has attended about as many retreats at Bellarmine Jesuit Retreat House, making the weekends a must-attend annual event.
Embracing Silence
In a culture that embraces the constant connection and chattering offered by technology and work life busyness, it can be difficult to unplug and enter into undistracted silence. Especially if you make your living as a litigator, Jim jokingly admits.
"The idea of putting myself in 'the silence,' as they call it, gave me a panic attack," says Jim, a gregarious guy who is naturally drawn to connection and conversation. "I now get how it creates an openness to God and prayer. All of a sudden it just works. Everything slows down. It's not like you hear voices or anything, but you feel God's presence there with you. The community of Bellarmine is very special in a way that only Bellarmine can do it. In a wonderful way it is almost addicting, and you want to get it on your calendar a year ahead."
For Jim, whose Catholic and religious roots run deep — St. Viator's High School, University of Notre Dame undergraduate and law school, long-time parishioner at Sacred Heart in Winnetka, Bible study groups, spiritual journaling and attending some services and programs at Willow Creek Community Church in South Barrington, his Bellarmine experience showed him anything can happen when you listen to the voice of God.
"God became more real, and I became more aware of God in the little things and in the big things," says Jim. He realized that silent prayer — in fact, all prayer — is really about moving from "doing" to "receiving" or simply "being." This can be especially challenging in his professional life, which is so focused on winning cases for his clients.
"Prayer is a process and not something you become perfect at," he says.
Bringing the Retreat Home
Woven into his retreat experience is the commitment to incorporate the spiritual lessons learned into his daily life. He works hard at it every day. He's developed several daily spiritual practices. One of his convictions is to examine his own sinfulness, asking himself what role he plays in controversy. Instead of accusing others, he tries to examine what role he had to play, a task that he finds humbling and hard to do. He also says his deeper faith calls him "to try never to lie." "As an attorney, I am determined to keep my integrity, to play fair and to play hard," he says.
Generosity and gratefulness have become predominant themes in a morning ritual of journaling, prayer, and Bible study. Jim begins each day "opening my mind and heart to God" by cultivating the habit of being grateful for every good thing that comes to him, attempting to give thanks continuously. He has at least three must-read prayers he focuses on, including St. Ignatius' Prayer for Generosity:
"Lord, teach me to be generous.
Teach me to serve you as you deserve.
To give and not to count the cost.
To fight and not to ask for a reward.
Save that of knowing that I do your will.
Amen."
Golfing and God
The Bellarmine frequent flier has done his own recruiting at the retreat house. "Do you play golf?" is a question he asks his favorite retreat leaders, including Fr. Jim Kubicki, Fr. Paul Macke, and Fr. Class, to name a few. He's dubbed his treks with his clergy friends and their suggested guests, "The Jesuit Open."

These days prayer is woven into the core of Jim's being through good times and during the challenging ones. A survivor of colon cancer, he is now facing knee surgery. The true essence of his being is to find blessing even in sorrow.
A Precious Gift
Recently, when he flew to Los Angeles to visit a close friend in hospice, Jim understood the lessons the retreats have taught him about the gift of presence, about how to be present for our loved ones when they need us most.
"It was the greatest gift to be at his side," says Jim. "He said to me, 'Hey look, I am at peace, everything is good.'"
Jim views his retreat experiences as a precious gift.
"I've learned that when you improve your spiritual life, everything in your life gets better: your marriage, your relationships with your family, your job and everything in your life," says Jim. "No matter what happens, I've learned to just keep praying, just keep praying."