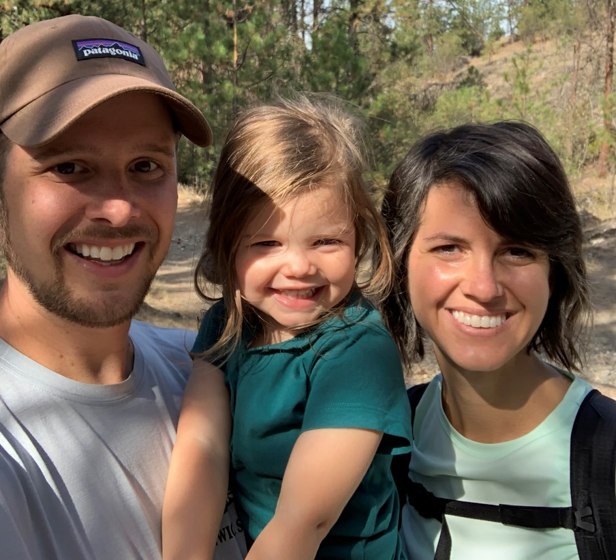 Lauren Hackman-Brooks
Lauren Hackman-Brooks remembers the unexpected yet providential way she found her way to Bellarmine Jesuit Retreat House.
In 2009, the then twenty-something Ohio native boarded a yellow school bus to accompany and lead a group of Cristo Rey Jesuit High School students on the 50-mile journey from Chicago's Lower West Side neighborhood of Pilsen to the sprawling retreat grounds surrounded by the equestrian farms and estates of Barrington Hills.
"It was such a privilege to witness the students sharing their stories in the beautiful space and setting of Bellarmine," says Lauren, who was a Jesuit Volunteer at the time.
19 Retreats and Counting
Over the course of the next eight years, she would make 19 additional treks with high school students to lead Kairos retreats at Bellarmine as Director of Campus Ministry at Cristo Rey and then as a chaplain at St. Ignatius College Prep.
It would be several years before Lauren, then Chaplain at Loyola University Chicago's Health Sciences Division, would make time for herself to pause and go on her own women's retreat at Bellarmine. She remembers the retreat leader was Carol Atwell Ackels, Director of the Ignatian Spirituality Institute, and the experience was profound.
"My prayer life got deeper," Lauren says about the Bellarmine retreat. "I had so much experience seeing what happens to other people on retreat at Bellarmine and was grateful for how that affirmed my own ministry. But experiencing the stillness, the solitude and contemplation on my own retreat rather than one I was working was powerful. I wanted to invite other people to experience the richness of the Ignatian spiritual practices I learned in a new and deeper way there."
Ignited by Ignatian Spirituality
As a result of her first and now ongoing Bellarmine retreat experiences, Lauren continues to focus her ministry and teaching within the context of Jesuit educational institutions, where she is impacting the lives of hundreds of students, parents, faculty, and community members. She became committed to an annual retreat at Bellarmine. She has become one of the retreat directors. In 2018 she co-led a retreat with Mary McKeon on "Befriending the Women Saints of America." Under the mentorship of Erin Maiorca, Executive Director of Bellarmine, she now serves on the board helping to shape the vision of its future.
"Bellarmine has helped inform the work I do and is a real important part of my faith journey and essential to my selfcare," she says. "The great gift of Ignatian Spirituality, which is the foundation of all Bellarmine retreats, is that it gives me just the right structure and spiritual freedom to grow in my faith. It continues to show me how important it was for me to be reflective and prayerful in my everyday life. When I notice in myself that things are not quite right in my soul, I tap into that to get centered again."
Since then, she's also gone on Ignatian pilgrimages to Spain and the Holy Land, participated in a young mom's faith sharing group, and directed retreats for a parish women's group.
Coming Home to Bellarmine
A grand adventurer who loves to run, hike, and ski, Lauren and her husband, Mark, and three-year-old daughter, Eloise, moved last June to Spokane, Washington where she currently is the Associate Director of Mission and Ministry at Gonzaga University. Attendance at Bellarmine board meetings and an annual retreat are non-negotiable on her calendar, she says. "I often refer to it as 'coming home' to Bellarmine. I can't wait to see the staff or to take a nighttime walk along the familiar driveway."
She says retreat experience, the Examen, and the wisdom of Ignatian discernment informed the decision to move, reflecting both her own and her husband's shared passion to find God in all things.
"Over the last couple of years, it became more clear to us that we feel most alive and most ourselves when we are in nature. This led us to live in a place where we could spend our days – and nights – outside."
"I'd love to see more young adults coming to Bellarmine and want to help think of creative and inspiring ways to make that happen," says Lauren. "I think that experiences of retreat like those offered at Bellarmine are not only restorative but potentially life-changing. In beautiful and unexpected ways, silence gifts us the space we need to more deeply connect with ourselves, God, others, and creation. As a result, the invitation and challenge is to carry that home with us, encountering God in the ordinary and modeling for others how to do the same."
Daily Prayer
In addition to her morning prayer practice, Lauren says the following prayer is very important to her:
"Lord my God, when your love spilled over into creation You thought of me. I am from Love, of Love, for Love.
Let my heart, O God, always recognize, cherish, and enjoy Your goodness in all of creation.
Direct all that is me toward Your praise. Teach me reverence for every person, all things. Energize me in your service.
Lord God may nothing ever distract me from your love…neither health nor sickness, wealth nor poverty, honor nor dishonor, long life nor short life.
May I never seek nor choose to be other than You intend or wish.
Amen."
~the First Principle and Foundation as paraphrased by Jacqueline Bergan and Sr. Marie Schwan