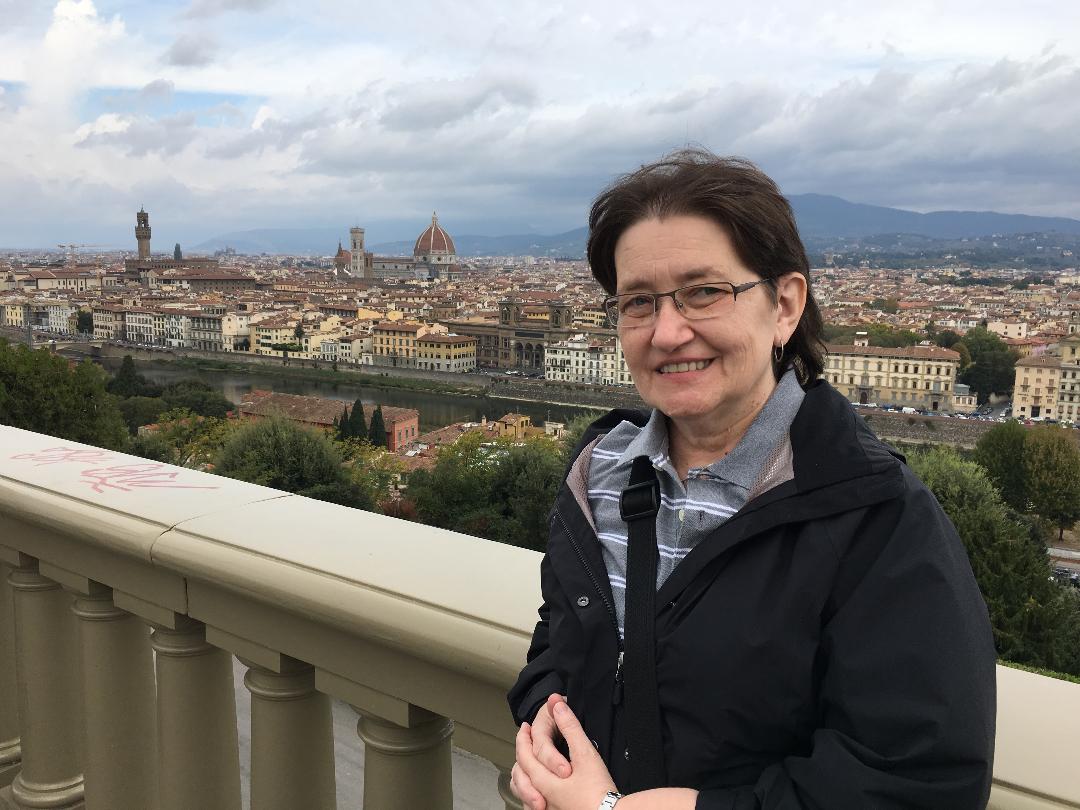 Lori Jones
For 40 years, Lori Jones says her faith had fallen off to the side. She remembers being in third grade CCD classes and not really getting what being Catholic or religion was all about and why it mattered. Even though she grew up in a strongly Catholic family where traditions, rules, and Mass were to be followed and not questioned, the rote practices made her feel even less connected to God.
Over the next four decades, the Des Plaines resident focused on how busy her life was caring for her two aging parents and working at FedEx Express near O'Hare International Airport, where she has worked for 35 years.
There Had to Be More
Until the sudden death of her father. Sitting at his bedside in his hospital room, she says she realized "there had to be more."
Her grief served as a catalyst to where life and faith connect. God's invitation beckoned to her. In February of 2018, her first step was to get back to church at the urging of her best friend, Karen. There, she met the pastor at St. Mary's Catholic Church in Des Plaines, Father Lawrence Collins, who suggested that a retreat would be just the right kind of pause she needed to understand why her faith had struggled and how to get it back.
She remembers saying, "Let's do this," and driving up the driveway of Bellarmine Jesuit Retreat House for her first three-day silent retreat.
"They got me," she says. "I remember sitting on the bed in my room and thinking, 'This is what I needed. This is speaking to me.'"
She found herself with a stronger faith than ever before. Finding God in all things, a big part of Ignatian spirituality, became her mantra. She realized God was inviting her — and had been all along, into a deeper, more loving, and meaningful relationship.
"I looked back and realized that there were no coincidences, God had been with me all the time," says Lori.
In God's Hands
Almost like a flashback, she realized the times God had been close by her side, including her love for nature and animals and in the more traumatic moments, like when she was driving home from work in the middle of the night on Mannheim Road, struck and her car rolled over 12 times and she walked out with only a broken shoulder. Then there were her three heart procedures and a serious heart condition she has survived and is thriving from. And the time she ruptured a disc and was bedridden a month before a planned trip to Italy, and a surgery that seemingly miraculously got her on track to travel 13 days before the pilgrimage.
Now, it was time for her to hear and act on the invitation.
Two years later, Lori has attended two eight-day retreats, eight weekend retreats, and numerous day programs and drives more than 35 miles round trip from Des Plaines to Barrington Hills at least once a week for Mass. She also was confirmed through her parish's RCIA program.
Calling to Others
These days, she's doing the inviting to Bellarmine as a retreat captain who invites others to experience the healing and relationship repair and rebirth that she herself experienced. She also cares for her 95-year-old mother, who lives in the same apartment building, and is preparing to retire from FedEx in the coming year.
As she faces her next transition, she is leaning into her faith and knows God is inviting her to "the next." Even though she has no idea exactly what that is, she is certain Bellarmine will be at the center of everything she does moving forward.
"I know God is leading me to something at Bellarmine or through Bellarmine," she says. "Bellarmine and the priests and staff there, Fr. Karl, Fr. Michael and all, are the people who welcomed me back. Now it is my turn to welcome others."